1997 Morgan 45 - Wilmington, NC
$95,000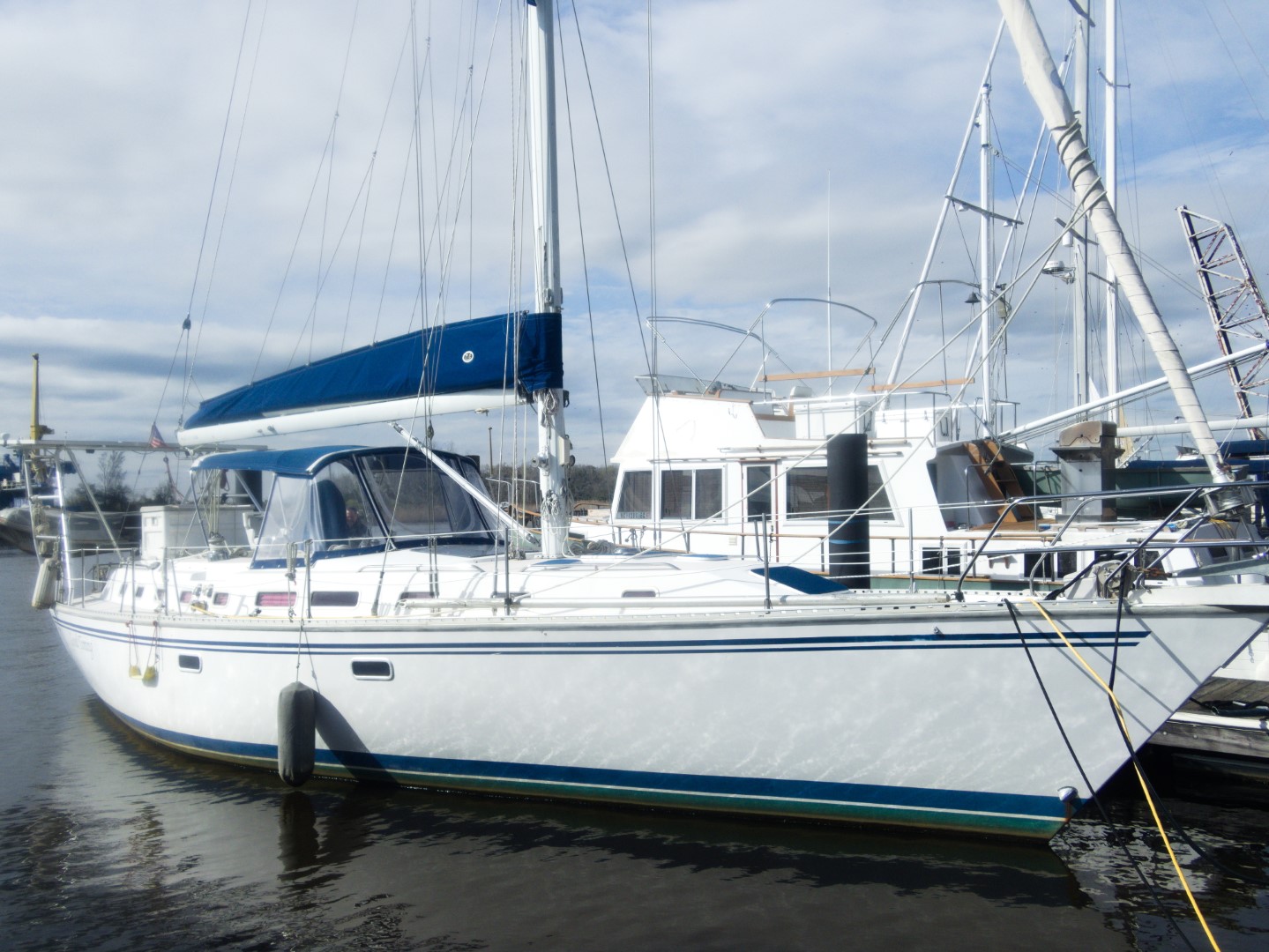 Sold after 10 months on market.

Day sailing or long-distance cruising in comfort and style. The Morgan (Catalina) 45 was built with the tried and true lines of Morgan with the style and touch of Catalina. Designed by world class design firm of Nelson Marick and built by Catalina Boat Yards, you will find that Good Timing has the best of both worlds of classic cruising sailboats.
On deck she is powered by over 450 square feet of sail area on a mast that is ICW compliant at 62.5 ft. Main sail is kept in order with a stack pack and roller furling for the genoa. Her center cockpit allows for a comfortable ride underway – with a navigation station right at the helm. To protect her crew from the elements, the cockpit can be enclosed on three sides with Isinglass, and the aft side can be zipped up with a screen.
Down below the spacious main cabin is light and airy with plenty of hand holds for passage making. The forward v-berth allows for plenty of room to stretch out – along with access to the forward head. While in port, the 16000 BTU A/C system will keep the crew comfortable.
The galley with a Force 10 propane stove is on the starboard side is built to lock in the cook. Refrigeration is provided by Danfoss Refrigeration system with Adler Barbour cold plate – accessible either through a side door or from the counter. A separate freezer is powered by a Dometic Super Cold Machine with SeaFrost cold plate which is either powered by the 12 volt system or engine driven system. Fresh water is never a problem with the custom built water maker.
The forward-facing navigation station is on the port with repeaters in place for the navigation stations.
Heading aft, the electronic panels are cleanly laid out and accessible with digital readouts for the A/C units, the DC/AC Sine Wave Inverter and analog systems for other key equipment. The forward windlass is dual isolated to reduce corrosion. Auxiliary power is provided by a Honda ED2000 generator.
Directly underneath the electrical station is easy access to the engine room. The immaculate Yanmar is easy to work on. Other main systems including the A/C system, inverter, and batteries are also immediately accessible for maintenance.
Walking aft, the stateroom cabin is a place to call home. The queen-size bed is centered in the cabin with easy access on three sides with plenty of storage. Steering mechanicals are located directly below the mattress. The aft head boasts a shower and a bathtub – with plenty of hot water.
Ready to cruise the world? Ready to cruise the coast – or just go out for a day of sailing. Good Timing is the boat to do it in. Contact us today to schedule a time to view her.