MacLear & Harris Pegasus 45
Oriental, NC $200,000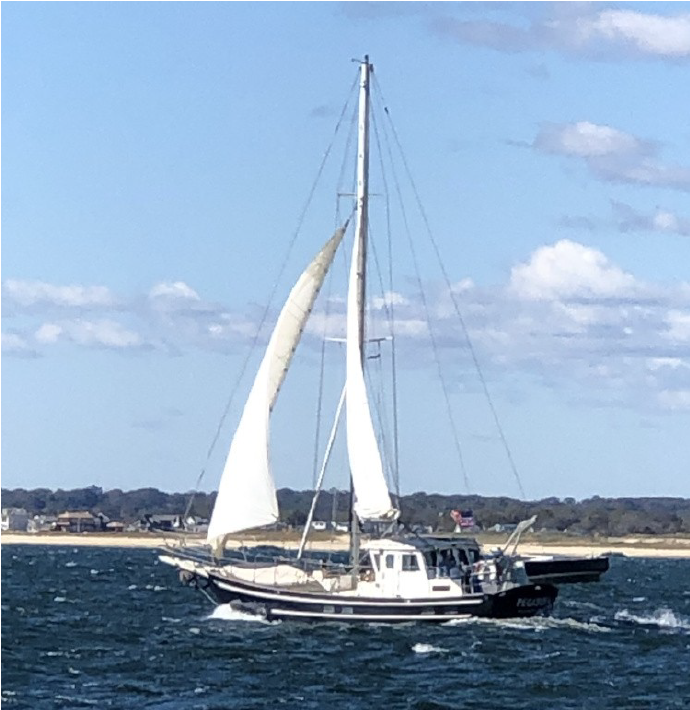 An expedition class boat in the truest sense of the word. Pegasus will take you to places other sailboats cannot dream to go – and will do so safely without having to worry about the winds that would keep other boats at home.
See the listing on Yachtworld: https://www.yachtworld.com/yacht/1990-custom-maclear-and-harris-8854305/
Pegasus is design # 507 from the board of MacLear & Harris. Her lines were done by Spyros Garbis and Dave Gerr. She is a "whale belly" hull typical of later mono-hull sailing vessels from that firm. Sporting 11 tons of lead ballast poured into her keel, Pegasus sails upright in conditions up to, and beyond storm force winds.
Pegasus is a single-stick "schooner" rig,. Her LWL is 36 ft, LOD 45 ft, Beam at sheer 13 ft, draft 4' 6". She has fore and aft centerboards, allowing her 4'6" draft to be extended to 9 feet.
The pilot house along with all of the vessel is insulated to keep you warm on the coldest of days. The aft cabin is huge. Forward and down from the pilot house is the main dining area with two quarter berths. Forward of the main dining area and through a set of watertight doors is the galley area on the starboard side and the head with shower on the port side. Continuing forward is the v-berth area with emergency access and large storage.
Pegasus was built as a USCG inspected vessel. Her wiring is USCG approved double insulated, copper, multi-strand wiring sized for a maximum 3% voltage drop across each circuit. Her plumbing is USCG approved reinforced hose or schedule 80 CPVC or aluminum piping, with glass reinforced seacocks. Her propellor shaft tube is lined with CPVC pipe, interference fitted. Her pipe thru-hulls are lined with delrin tube, interference fitted. This attention to detail, is evident throughout her construction. After more than 100,000 miles underway, Pegasus retains full and complete functionality.
Pegasus is a one-of-a-kind vessel. She was built to explore and find out the beauty of the seas. She is not for every sailor – but for the sailors who want to go where no one else will go – Pegasus will get them there.
Dimensions
LOA: 40 ft 0 in
Length on Deck: 45 ft 0 in
Max Bridge Clearance: 50 ft 0 in
LWL: 36 ft 0 in
Beam: 13 ft 6 in
Min. Draft: 4 ft 6 in
Max Draft: 9 ft 0 in
Hull Material: Aluminum
Sails
1200 sqft working rig
450 sq ft #1 Yankee
350 sqft #1 staysail,
400 sq ft Main
1200 sq ft cruising chute with sock
700 sq ft tri-radial drifter,
Tri-radial drifter
Nos 1, 2, & 3 yankee jibs
Nos 1, 2, 3 & 4 staysails
2 mains
Storm Trysail
Storm Yankee,
Storm Staysail
Propulsion

Engine Make: Perkins
Engine Year: 1984
Primary Engines: Inboard
Power: 80 hp
Location: Center
Engine Model: 4-236
Fuel Type: Diesel
Propeller Type: 3 Blade
Her engine is a Perkins 4-236 driving a 30" variable pitch three bladed propellor thru a
Hundested VP-2 handwheel activated variable pitch gear, a Newage PRM 401 cast iron reversing gearbox in 3:1 reduction, fed fuel from 4 tanks totalling 300 gals, filtered by parallel Dahl primary filters, and polished by a Perkins final filter. This engine has been maintained, drives the boat at 7 knots @ 1500 rpm with 40# oil pressure, at less than 180 deg
coolant temp, with no smoke. Tanks can be internally inspected through the fills, and are clean.
Engine room is protected by a built in Halon fire suppression system, has standing headroom, is accessed via a 6 dog water tight door, 3x4 ft overhead hatch in wheelhouse floor, and 2x3 ft two dog door providing access to the adjacent sail bin.
Tanks

Fuel Tanks #: 3
Fuel Tanks Capacity: 92 gal
Fuel Tanks Material: Aluminum
Fresh Water Tanks #: 6
Fresh Water Tanks Capacity: 50 gal
Fresh Water Tanks Material: Aluminum
Holding Tanks #: 2
Holding Tank Capacity: 15 gal
Safety Equipment
3 halon fire extinguishers
Class III EPIRP
6 type 1 life jackets
6 water tight compartments
5 water tight bulkheads

Accomodations

Number of single berths: 4
Number of double berths: 2
Number of Cabins: 3
Number of Heads: 1
2 Dickinson diesel stoves
Underwater research equipment

Bauer Junior Dive Compressor with spares 3 size 80
Aluminum dive tanks one size 120 aluminum dive tank
2 regulators 2 snorkels 2 wet suits
4 sets of fins
2 underwater strobes
4 underwater cameras
2 weight belts
Dive knives
Dive compass
She carries 5 anchors, set via an ABI two speed manual windlass, as designed for Larry Pardey.
She has a thwartships gimballed 4 burner LPG shipmate galley stove with oven, pressure water, water heater, Engle fridge-freezer and Ice box.
Her dinghy comes with two sets of oars, and is drained by an elvstrom bailer.