1990 Cabo Rico 38 Pilot House - Southport, NC
$99,000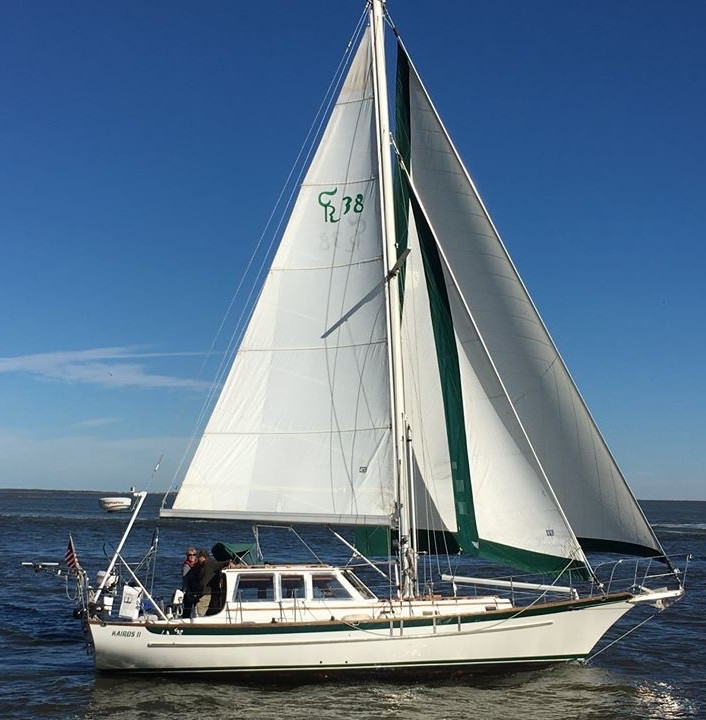 SOLD IN 65 DAYS
The Cabo Rico 38 Pilot House is built to take you sailing where you want to go. Her cutter rig allows for greater sail plans – giving you comfort and speed or safety depending on the weather. All halyards are led aft to the cabin. Her in-boom furling system allows for ease of raising or dowsing of the main – and allows for reefing without having to worry about reefing points. Her aft cockpit is protected by a spray shield and bimini. The pilot house allows the crew to stay safe and dry with a 360 degree view in any type of weather.
Going down the companionway from the cockpit you will see a large spacious seating area on the port side. Flip a switch and this bunk lifts up to give access to bilge pumps, inverters, the back side of the electrical panel, and the large water heater – with room to add more! On the starboard side is another set of stairs leading down to a spacious quarter berth. Flip up the door, and a large chat area gives the crew a place to keep navigation items close at hand.
Going forward on the starboard side is the pilot house with raised seating, full throttle control, and navigation displays. The rain may be pouring outside, but inside you are fully protected and sailing along.
Moving forward and going down three steps on the port side is the galley with a 2-burner propane stove, deep freezer and very accessible refrigerator. A deep two-sided sink allows for easy cleanup. There is storage galore here in the galley and throughout the boat.
On the starboard side is the eating area with fold out table and more storage.
The head is just forward of the galley with an easy electric head. The separate shower is just forward of the head with ample space.
The forward cabin has a very spacious v-birth without sacrificing storage. Portlights and top hatches allow for breezes to keep you cool at night.
The Cabo Rico 38 is a great cruiser that will take you up and down the coast or go world traveling.