1984 Kadey-Krogen 36 Manatee
$146,000
Southport, NC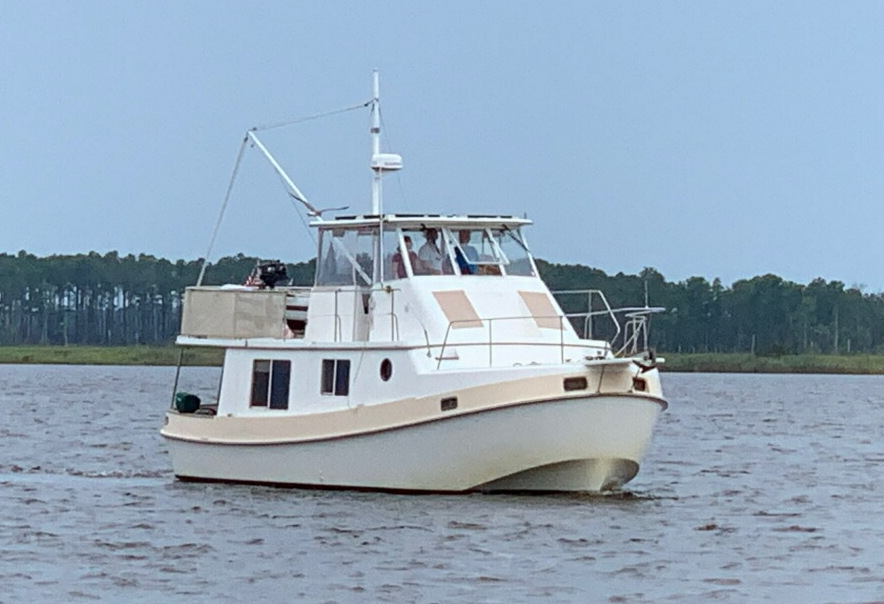 Sold in 2 Months!
Built for the great loop, anchoring out with friends or moored at the dock enjoying cocktails. Welcome aboard Mermaid – a 36 ft 1984 Kadey-Krogen Manatee.
This boat is built to built for two people to cruise comfortably. Powered by a Volvo Penta 110 HP engine with 1275 hours, she has the ability to get through just about any seas and still sip diesel. Her 280 gallon fuel tank gives roughly an 1100 mile range. Away from the dock she has a Northern Lights 5 Kw diesel generator to power the 16000 BTU A/C unit and other onboard systems. Her two solar panels with 420 watts each will also keep the batteries topped off.

Come onboard through the side access ways or through a fold-down gangway which makes getting off and on very easy. The covered aft deck area is roomy enough for entertaining friends or enjoying the scenery.
From the aft deck area and to the starboard is the ladder that brings you to the top deck. Here is another area for seating and entertainment, or for dinghy storage. Going forward brings you to the bridge with wrap- around enclosures that can be kept closed for colder days or opened all the way to let in the breeze. The helm gives you a clear 360 degree view around you with all controls right at hand. The Twin Prop bow thruster makes sure you are able to maneuver into tight places.
Going forward from the bridge is the forward deck area at the bow with ample seating. The windlass forward holds a 25kg Vulcan anchor.
From the covered aft deck, going forward you enter into the main cabin. This area is well lit by the expansive windows and has plenty of seating room.
From the main cabin going forward, on the starboard side is the head with a Vacu-Flush system with a 28 gallon holding tank. A separate shower stall draws upon 300 gallons of fresh water with an 11 gallon hot water heater.
On the port side is the galley. Cooking is done on a Princess three-burner propane stove with oven. A large stainless steel sink helps with cleanup. Food is kept safe in a nicely sized refrigerator and freezer that is AC or DC powered. The galley has plenty of storage.
Going forward is the stateroom with a midline queen/king sized bed. In here are deep closets and plenty of drawers and other storage. At anchor, the portlights and hatch allow plenty of air through the boat to keep you comfortable – without having to run the generator for air conditioning.
Mermaid is a veteran of the great loop, including a trip up to Maine. Kadey-Krogen Manatees are well-built trawlers that have a devoted following. Contact us today to schedule a time to come onboard, and see what comfortable cruising is all about.